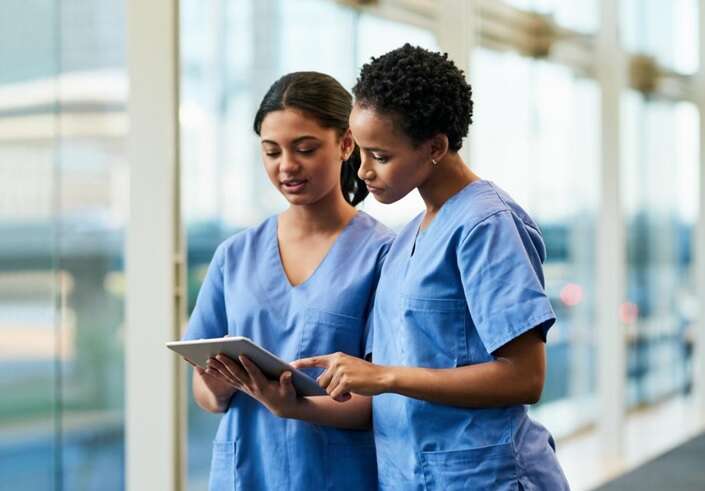 Nurse mentorship is essential for properly training and developing freshly trained nurses and is strongly supported by the American Nurses Association and other nursing-related organizations. Giving inexperienced nurses the confidence and skills they need to succeed is vital.
The success of a nurse mentorship program, whether formal or informal, relies on the solid relationship built between the more experienced nurse mentors and the novice nurses they are mentoring.
Who is a nurse mentor? 
A nurse mentor is someone with a comprehensive understanding and proficiency in the nursing field willing to guide and encourage a new nurse. Mentors strive to form a secure, supportive environment within and beyond the clinical setting and offer formal and informal guidance through lessons, advising, and support. They are there to aid new nurses in adapting to their fresh work environment.
Nurse mentors demonstrate kindness in their relationship with mentees and develop solid and long-term alliances. New nurses view their mentors as sources of support and learning, depending on them for counsel and encouragement.
What does a nurse mentor do? 
Nurses who recently passed their state exam and graduated from an accepted nursing program are getting ready to kick-start their nursing careers. Despite that, the demands of working in a genuine healthcare environment can be daunting.
To assist them in getting acclimated, nurse mentors can provide valuable direction and transfer their clinical proficiency, outfitting new nurses with the assurance they require for success.
Nurse mentors may utilize systems such as problem-solving through role-playing, giving assessments, demonstrating effective communication techniques, and providing resources to address issues or questions. They can also provide insight into organizational dynamics, connecting new nurses with more experienced colleagues and creating learning opportunities.
How to find a nursing mentor as a student 
Here are ways students can find a nursing mentor:
Participate in a mentoring program 
Certain healthcare facilities or universities offer mentoring initiatives that pair mentees with seasoned mentors. These mentoring programs are beneficial for new nurses as they assist in the creation of a productive work atmosphere by allowing senior nurses to provide guidance and assistance to new professionals.
Students will develop relationships with more experienced nurses by participating in a mentoring program. They can access information and guidance supporting their educational journey and professional growth opportunities.
Speak to key personnel 
Mentoring programs may only sometimes be highly publicized. However, you can contact the head nurse of your health care facility, education department staff, or human resources representatives who can point you in the right direction. They might know of existing mentorship opportunities or could tell you about qualified nurses willing to mentor you.
Students may also contact previous clinical instructors, school career advisors, or teachers in both the professional and academic setting, as they can provide helpful advice. Research nursing organizations and associations and reach out to their members and leaders.
Find a mentor online 
Using the Internet as a networking tool to locate a mentor in the nursing industry is a popular option. LinkedIn and other professional social networks typically have groups explicitly created for nurses that contain members that would be open to mentoring.
NurseTogether.com and allnurses.com are two great online resources for connecting with potential mentors. Through these virtual connections, it is possible to develop a real-world relationship and for the contact to become a mentor.
Talk to teachers involved in clinical internships 
Nursing degree programs involve clinical internships, allowing students to gain hands-on experience. Nursing students can use internships to connect with teachers who can be great nurse mentors and provide guidance to help build a career in a specialty.
In addition to tapping into the teachers' resources, students can continue their search for a mentor by contacting nurses. By connecting with a nurse with expertise in a particular nursing specialty, a student can get insight into the nursing field that may be available outside of a textbook or classroom setting.
By doing research through online resources or by reaching out to nursing groups in the student's area, students can gain a better understanding of the opportunities available in their area. Institutions such as Texas Woman's University include clinical placement services in their online MSN-FNP program which help students find preceptors and sites. Mentorship in nursing is a great medium for students to gain career and professional insights that will help them become proficient in the role they are training.
Observe nurses at work 
Nursing students at many healthcare facilities can watch nurses in action to understand everything they need to know. The facility's Human Resources or Education Department generally plans these inspections, allowing more time spent communicating with experienced nurses than in clinical practice.
When introducing yourself, be professional, friendly, and show you have knowledge and enthusiasm for the profession. Once you have built a good relationship with a nurse, you can request that they serve as your mentor.
Qualities to Look for in a nursing mentor 
Here are the qualities of an effective nursing mentor:
Organized manager 
A nursing mentor should be organized in their thinking and planning, as this will help the mentee feel that their mentor will have realistic advice on achievable goals. The mentor should have excellent time management skills, as this will help them to be punctual with their sessions and to create and adhere to a structure that will aid the feedback and learning process.
The mentor should also have good communication skills, both verbally and non-verbally. This will help them convey their advice effectively and foster an open and honest dialogue between both parties. Furthermore, they should demonstrate an ability to manage tasks, as this will help them to identify workloads and duties within a mentorship role, ensure that these are completed, and that their mentee is getting the best support possible.
Persistent 
Determined mentors will firmly believe in their capacity to assist their trainees and be assured of their capability to aid them in implementing their objectives. They will yearn to show respect, patience, sympathy, and understanding, as well as the ability to challenge trainees when imperative.
The mentors will be dedicated to helping trainees progress through their skillset and spur them to stay profoundly inspired to achieve their aims. A determined mentor will be able to proffer helpful feedback when necessary and encourage trainees to continue striving for excellence.
They will also be eager to question the status quo and consider new concepts if they benefit the mentee's advancement and success. Lastly, determined mentors will exert themselves to guarantee their trainees attain their ambitions despite difficulties.
Collaborative and goal-oriented 
Collaboration is paramount in a mentoring partnership, as a mentor should always be willing to assess distinct thoughts, viewpoints, and techniques to solve issues. They should be open to feedback and collaborate to bring new ideas and overcome difficulties.
A purpose-driven mentor will help set and aim for occupational and academic aspirations, shape strategies to fulfill them, and help support the mentee's progress. They will provide insight and guidance and direct the mentee in the right direction to attain their objectives.
These attributes jointly constitute a successful relationship, allowing the mentee to succeed in their work and grow professionally. A cooperative and purpose-driven mentor is essential in a nursing career as they can assist in producing outstanding results in a shorter duration. When searching for a nurse mentor, seeking someone who is collaborative and purpose-driven is essential to guarantee a two-way beneficial association.
Patient 
A fundamental characteristic of a successful nurse mentor is to maintain patience. Guiding a new nurse can be difficult because every person has distinct learning capabilities and may necessitate a diverse approach method.
An accommodating mentor will adjust their mentorship style to suit the mentee's requirements, providing them with the guidance and confidence needed for successful understanding. Concurrently, a good mentor must be tolerant of their mentee. Not all individuals learn similarly, meaning it can take longer for particular tasks and concepts to take hold.
A successful mentor remains patient, even if progress seems slow, and works through any misperceptions or misinterpretations as they arise. This enables mentors to comprehend better and amend their mentee's educational procedures.
Mentors must also illustrate patience with themselves, recollecting that successful mentorship necessitates both growth from the mentor and the mentee. Ultimately, a successful nurse mentor shows tolerance, adaptability, and insight with both themselves and their mentee.
Good role models
A good nurse mentor should exemplify good nursing conduct for their mentee. They should exhibit expert nurse characteristics, including diligence, integrity, and sympathy.
By exemplifying these features, the mentor can show their mentee how to embody them and become an even better nurse. The mentor should also have an open stance and be eager to heed the mentee's ideas and anxieties. They should invite opinions and talk through intricate inquisitions and dilemmas.
Communicative
Strong communication skills are essential so the mentor and mentee can debate issues effectively.
A nurse mentor should create an ambiance of esteem and optimism. Respect for the mentee's opinions, ideas, values, and beliefs is necessary. Celebrating successes and achievements is also crucial to maintain overall encouragement.
Good at giving constructive feedback 
Nurse mentors should offer reassuring and impartial replies to assist their mentees in comprehending where to better themselves. This enables the mentee to reinforce their nursing capacities and assurance, inevitably turning into a proficient and sure nurse.
Nurse mentors should also provide favorable and constructive remarks to assist mentees in identifying their talents and regions of advancement. It should consist of delivering realistic and achievable goals for development and proposing specific strategies for accomplishing them.
Additionally, nurse mentors should provide emotional and moral support and direction to guarantee their mentees can succeed as nurses. Mentees should also be made to feel supported and cared for by their mentor, which can help minimize anxieties and apprehensions that may arise from the difficulties affiliated with studying and providing care.
Open to feedback 
A good mentor is adept at providing feedback and being open to receiving it. No one is flawless, and mentors can gain as much knowledge from their mentees as they can provide. Showcasing humility and a readiness to develop professionally by welcoming feedback sets an excellent example for the mentee.
They should listen closely and offer knowledgeable advice without imposing their own opinions. Professional challenges should be met head-on but with a balanced approach, always considering the mentee's needs.
The mentor should be passionate about their mentee's success and help them to achieve their goals. Transparent and honest communication ensures the mentee feels comfortable and understood. Mentors should be bold, challenge their mentees, and help them heavily stretch their goals.
Welcoming of new nurses 
Starting a new job or changing departments can be daunting for a new nurse. A good mentor will generate a welcoming environment for the mentee, ensuring they experience relaxation and are part of the department.
By creating a sense of community, the mentor can help the new nurse in developing connections with their colleagues and facilitate an easier integration into the job. The reduction in the odds of the nurse quitting the unit is the most significant result of this.
Good teachers 
A good nurse mentor should be able to instruct proficiently, which involves simplifying intricate concepts into more comprehensible terms. This is often accomplished by adjusting your instruction approach to comply with the educational demands of the mentee.
Different teaching strategies, such as discussions and simulations, are employed by adept educators to enhance the education process. Allowing mentees to ask questions and energetically engage in learning is associated with improved comprehension.
Additionally, feedback is critical for successful teaching, as it will enable the mentor to direct the mentee on the correct path. Providing constructive critique and a positive outlook is essential for enhancement and progress.
Good adaptability skills 
A good nurse mentor should be flexible and able to respond to the ever-shifting healthcare landscape. Being up to date with the most recent evidence-based approaches and tailoring mentoring to the particular necessities of the mentee could be necessary.
A dedicated mentor shows their dedication to both their progress and that of their mentees. Having an adaptable mentor will ensure that the mentee is exposed to as many new developments and ideas as possible so they can be prepared to face any situation they may encounter in their careers.
Additionally, a mentor with good adaptability skills can easily navigate unpredictable or even hostile conditions, providing nursing guidance to their mentee that can see them through the most challenging times.
Have high emotional intelligence 
Nursing mentors must demonstrate great emotional intelligence to be successful. This involves the capacity to interpret and connect to their emotions and the emotions of those they mentor — while also being able to regulate and handle them both.
A mentor with vital emotional intelligence is better prepared to aid their mentee in addressing challenging situations, reduce pressure, and nurture a valuable mentoring relationship.
Identify growth areas for their mentee 
A skillful nursing mentor can recognize areas where their mentee may need extra aid or enhancement. The mentor can assist the mentee in identifying regions where they lack understanding or exposure and design tactics to raise their ability through providing targeted training, access to resources, and support to overcome obstacles.
A proficient nursing mentor should give mentees the imperative skills and knowledge to develop and successfully progress in their vocations and aspirations and aid them in recognizing chances for further growth.
Moreover, they should be able to assess what challenges may block the mentee's growth and establish policies to help the mentee surpass these challenges. The nursing mentor should be able to back up mentees emotionally and professionally while offering advice that energizes them to reach their maximum capability in the nursing sector.
Educate new nurses on company culture 
A nurse mentor should be familiar with the organization's culture and values to train and orient a new nurse effectively. They should help the unique nurse comprehend and embrace the workplace culture, ensuring they feel positive and aligned with the organization's goals.
Furthermore, they should be able to illustrate how the culture of the organization overall guides decision-making and how it affects patient care. Excellent advisors will be able to give examples of how adhering to the culture has enhanced patient outcomes and what occurs when the culture is not obeyed.
They should also be familiar with pertinent policies and protocols and assist the fresh nurses in appreciating various staff roles within the center.
Final thoughts 
As they search for a nursing mentor, nursing students should seek patience, sympathy, and the capacity to give constructive feedback. Moreover, they must consider someone who understands the challenges of nursing school and can provide approaches to surmount them.
The students should also consider their instructors and other mentors available in their local professional associations. If needing additional support, students can search for online mentoring services or look up potential mentors via social media.
Ultimately, picking the right mentor relies on the individual's necessities and ambitions, so dedicating the time to locating a mentor that matches those needs and purposes is fundamental.