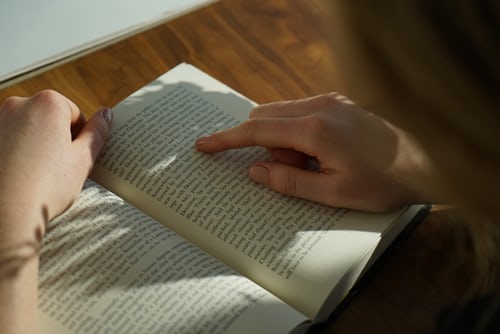 Of all the daunting aspects of writing a novel, taking the step to get published is probably the most intimidating. If you're looking to self-publish, all the work is on you instead of having a team of editors, artists, and marketers do the work for you. But self-publishing means every part of the publishing process is in your hands, so you can be happy with the end result.
If you're not sure whether or not you want to self-publish or publish traditionally, click here for a helpful article to see which is right for you!
If you know you want to be an indie author and publish your own book, read below to see what steps you need to take to be a published author!
Step One: Decide why you want to be an author
While this may not seem like an important step, writing and publishing a book is a lot of work, so before you dive into the deep end, make sure you're writing for the right reasons. If you're looking at writing ebooks as a get-rich-quick scheme, self-publishing may not be for you.
Most people want to be an author (from a creative perspective) because they always have stories inside of them that need to be told, no matter what. Others write ebooks to leverage their skills or knowledge as a teacher, scholar, speaker, coach, or business owner.
Whatever the reason, make sure you're writing for the right ones. Then the rest will naturally fall into place as you work to make your dream happen.
Step Two: Outline Your Book Idea
Once you do have your book idea, it's so tempting to dive in and start writing that first chapter! But if you dive in with only a seed of an idea, you may find yourself stalled before you make it out of the gate.
Taking the time to outline your novel will help you make sure you know where your book is going. If you don't know how the book will end, for instance, you may find yourself bogged down writing and rewriting over and again to get it right.
Outlining will give you a better sense of direction, keep your writing on track, guide your research, and save time overall in the writing and editing process.
Click here for some helpful tips and outline templates to help you get started!
Step Three: Write write write
Here's the rub: you have to actually write the book to get it published, and that is where many would-be authors crash and burn.
Why? Writing a book is months and months, sometimes years, of hard work. Some authors get overwhelmed and quit before they ever type "The End". Here are a few tips to help develop a writing process so you can get your first novel published online:
Set daily or weekly writing goals for yourself, scheduling time in your calendar for working on your book. Even scheduling a specific time of day (when you're most productive) can help you meet your goals.
Create a great environment to write in. This could be a dedicated office space or cuddled up with your favorite blanket on the couch. Wherever you decide to write, make sure it's free from distractions. Putting on headphones can also help keep you in your writing "bubble".
Refer to the outline that you created, and keep in mind your outline is a living document, and not set in stone.
Find a critique or accountability partner, someone who will keep you true to your self-projected deadlines.
Step Four: Get Feedback
Now that you've got the basics cleaned up, you want to have someone help you with developmental editing.
No matter how much rereading and editing you do, as the author, you're too close to your own work. Getting someone from the "outside" who can read your draft with a critical eye can alert you to issues with plot, characterization, or pacing that you may not have noticed.
Step Five: Copyediting
No doubt the first few rounds of editing will be done by you, the hard-working author. Yet no matter how many times we read over our own work, we can still miss small details, even with text editors like Grammarly. Grammarly doesn't catch all errors, so definitely use a human editor for copyediting.
If you can't hire a professional copy editor, ask a friend who enjoys reading your genre to give your book a once over, or find a critique partner online. Cleaning up the errors in grammar and mechanics will make the next round of edits much easier for you.
Step Six: Design a book cover
Now that you've got your first draft polished and ready to go, you can begin thinking about your book cover.
You want a book cover that converts would-be buyers into readers. The old cliche not to judge a book by its cover doesn't apply here. How many times has a gorgeous book cover led you to reading the dust jacket and ultimately buying the book? Probably hundreds, right? So your cover matters.
You can hire freelance illustrators on sites like Fiverr, Upwork, and through social media if it's within your budget. If you're creatively inclined, you can design your own for a totally DIY novel, or ask a friend to do you a huge favor for free. Whichever route you choose, you want a simple, eye-catching, professional-looking cover.
Step Seven: Publish Your Book
The moment has arrived. It may have taken you weeks, months, or even years to get here. Now it's time to choose your publishing platform. The following platforms will help authors new to publishing with simple-to-use interfaces and step-by-step instructions, all for free.
A few of the benefits of self-publishing with top platforms for novels include:
Once you've hit publish on Kindle Direct Publishing, you can begin selling within 48 hours and keep up to 70% of your profits.
Me, Royal Road, and Webnovel allow you to publish chapter by chapter, earning as you write while getting invaluable feedback from your readers. Keep up to 100% of your profits with these platforms.
Apple Books, Kobo, and Smashwords allow you to keep up to 85% of your profits while offering other services like editing, book cover design, marketing, and book distribution.
This list is only the tip of the iceberg when it comes to getting your novel published online. Do your research and find the platform that is right for you! Before you know it, your name might be among the bestselling authors on Amazon and The New York Times.