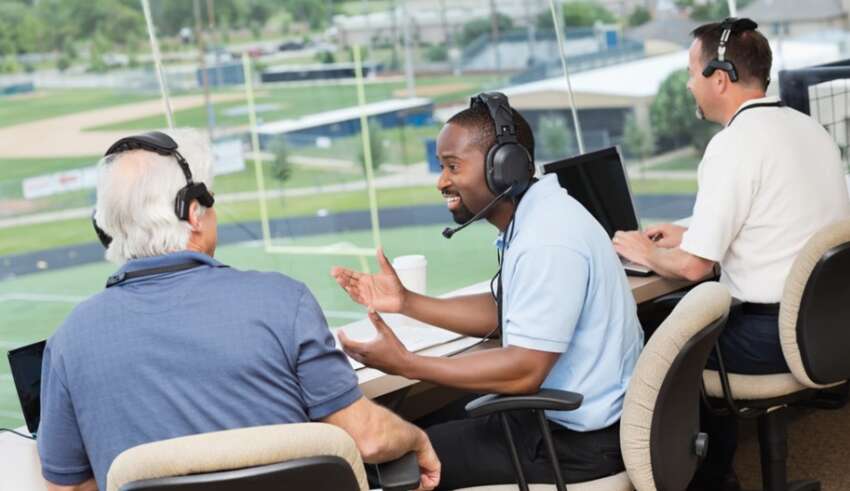 Sports journalism is an exciting field that has a lot on its plate. Sports journalists operate in a fast-paced world where each detail matters and every second counts. They must keep up to date with the new games and developments, study, evaluate, and provide relevant and engaging stories while outshining their competitors.
What cutting-edge tools and techniques can you use to improve your storytelling and give your audience captivating insights? One of the best approaches is utilizing sports analytics tools and techniques to stay current. These tools enable you to access data and report detailed stories quickly and effortlessly. Dive in to learn more!
What is sports analytics?
Sports analytics involves the analysis of sports data, covering aspects of sports such as recruitment, business processes, and player performance. The information benefits all competitors, including teams, individuals, and sports businesses. Sports analytics employs the utilization of statistical and mathematical concepts in sports.
It is divided into off-field and on-field analytics. Off-field analytics uses data to help sport entity owners to decide to boost their companies' profitability and expansion. On-field analytics improves players' performance and coaching staff by concentrating on their tactics and conditioning.
What does a sports analyst do?
A sports analyst is a professional who works with the sports science team and sports coach to improve athlete performance by examining psychological, physiological, tactical, and technical performance variables. The term "sports analyst" was first used with radio and television commentators who analyzed an individual's or team's performance.
Data-driven sports analysts, a recent phenomenon, analyze performance using various technologies, including data mining, machine learning, and predictive analytics, to spot areas for improvement or uncover new information. They then use this knowledge to decide on personnel, strategy, and tactics.
Additionally, their work is more than just sports. They might provide business strategies for the gambling industry, assist coaches in identifying their strengths and weaknesses, or be journalists who use statistics to support their reporting. A lot more options are available than most people know.
You can acquire all the skills necessary to become a modern-day sports journalist by enrolling in sports journalism graduate programs at a reputable institution such as St. Bonaventure. These programs will prepare you for various sports marketing and communications careers. Additionally, you will master cutting-edge news-gathering techniques that will enable you to create original content for print and digital media that adhere to the highest journalistic standards.
Sports analytics used by sports journalists
Data and sports have long been closely related. Useful predictions don't just happen. The sports sector must learn from data and develop effective models.
Here are some of the most common data analytics used by journalists today:
Collecting detailed sports data
How can you explore further the statistics supporting your most recent story? Interestingly, many sports analytics software in the market can assist you in getting those numbers.
These tools aim to disseminate essential data and information from the expert and amateur sports industries. They enable journalists to learn in-depth details about the leagues, teams, and players to produce more exciting stories.
Opta Sports: This is a web-based platform created to collect countless statistics and pieces of information from significant sporting events worldwide. It includes game summaries, highlights, and player statistics from team results.
Squawka: You can use Squawka, a data extraction tool, to examine player performance and produce captivating content. It emphasizes offering precise evaluations of player skills and typical performance indicators such as "assists" or "key passes."
Guroo: This is a potent search engine that you can use to find overlooked trends in real-time sports Additionally, it enables you to compare players and teams individually or in comparison to league averages after some time.
Using sports data visualization to gain insight
Sports data can uncover previously hidden stories, insights, and trends. Using the appropriate analytics tools, you can find essential performance metrics and other helpful statistics that improve how you present your stories.
How can you use them to analyze data? You can accurately and efficiently visualize the information using several top sporting analytics tools. Here are a few examples:
Tableau: Tableau is a cloud-based application you can employ to produce reports, dashboards, and visualizations swiftly. Additionally, it has interactive charts and maps that simplify delving deeply into the data.
Qlik Sense: This potent visualization tool allows you to create data models through several sources to identify relationships between various factors.
Google data studio: With innovative visualizations, interactive maps and graphs, and customizable visuals for every device, this tool helps quickly turn findings into stories.
You may now, sooner than at any time, get valuable insights from your data using these potent tools.
Using sports data analysis to create content
It is one thing to collect data for sports analytics. However, using it to create content is an entirely different thing. Fortunately, you can access some of the best resources available to ease your work. Here are some of these tools:
Data visualization tools
Data visualization tools focus on displaying data in simple ways to read, understand, and spot relevant trends in the data. Tableau, which offers a wealth of visualizations and capabilities that enable you to generate excellent graphical representations quickly, is one of the most well-liked applications for this purpose. Power BI, a Microsoft application that provides in-depth graphics and valuable analysis of your data, is another standard tool.
Sports modeling tools
Sports modeling tools are created to assist you in precisely predicting future outcomes based on previous results. This is accomplished using various statistical models with numerous elements, including player performance and environmental variables.
OptaPro AnalytiX, one of the most popular sports modeling tools, enables you to build analytical models from big datasets. Proform Sports Analytics Toolkit is another helpful resource that provides sophisticated algorithms for predicting team results measures such as possessions lost or those won in every game.
The ability to delve deeply into the data and uncover insightful stories beyond simple statistics and numbers is now more accessible to journalists than ever, thanks to these potent sports analytics tools. Accessing these powerful tools gives you an advantage over your rivals in today's fiercely competitive sports writing landscape!
Sports analytics tools for data collection
What tools can you employ to gather information? Thankfully, there are quite a few tried-and-reliable tools that you can use:
STATS Inc. is one of the most preferred resources for many journalists. The tool can offer information on everything from an individual's performance to the result of a game or even the league in a whole season. It gathers information from more than 40,000 matches in 90 sports categories.
SportSource analytics: You can access an easy-to-use interface through SportSource analytics for gathering and examining current sports metrics. Additionally, it offers access to its in-house Real-Time Play (RTP) technology, enabling you to follow players in real time and better understand the match and their abilities.
Sportradar: Another excellent resource for journalists is Sportradar, which provides statistics for over 30 games across 80 nations. You can quickly compare results during a specific period and get insightful knowledge about the game by accessing extensive analytics on specific leagues, teams, and players throughout various periods.
You can rely on these data-gathering tools to stay informed on the most recent events and trends in your area of expertise. Furthermore, utilizing these potent metrics can acquire priceless insights into your content that might have been challenging or impossible to discover.
Sports analytics tools for data visualization
You might be surprised to learn that many excellent sports analytics tools are available for data visualization. You must be able to interpret the data as a journalist to convey the information to your readers in an understandable way. Here is a review of some of them:
Tableau
Tableau is one of the most excellent products available if you're searching for a reliable tool to view and evaluate sports-related data. Even if you lack technical expertise, you can quickly use it because it is intuitive and easy to use.
Using its drag-and-drop interface, you may effortlessly and promptly generate visualizations, such as graphs and charts. Additionally, its forecasting capabilities offer insightful information about statistical trends and empower you to make better decisions.
Microsoft Power BI
Microsoft Power BI is an excellent choice if you're looking to develop dynamic visualizations that let you filter data sets to find the precise figures you may require. Additionally, it has vital AI elements that offer real-time analysis generated from various inputs, including player ratings and game statistics. You can also create custom charts and graphs to track how statistics change over time.
Other data visualization tools
There are a ton of alternative sports analytics tools available if you require assistance making sense of your data sets, including the following:
Chartio – Quickly construct dashboards using drag-and-drop setup and offers visuals from a wide range of data sources
QlikView – Links directly to numerous datasets and offers representations from various angles.
NVivo – Effective software for qualitative research; offers advanced statistical analysis of texts for in-depth knowledge of user behavior.
Grapple Data – An AI-driven tool for analyzing sports data and finding trends.
How are journalists using sports analytics tools?
The cutting-edge analytical tools that sports journalists use today may surprise you. Here are a few examples of how they're employing sports analytics techniques to reveal the untold stories in the world of professional sports:
Data collection and analysis
Data collection and analysis are essential for learning about various professional sports-related subjects, including team tactics, match outcomes, and player performance. Using practical analytics tools, you may evaluate trends and derive valuable insights from enormous volumes of data.
Predictive modeling
Predictive modeling is also one of sports journalists' most popular techniques today. They can predict results using predictive models, such as weather conditions, team collaboration, and personnel changes. They can then develop more profound conclusions about potential future happenings, which is beneficial when forecasting outcomes of matches or other events.
Player performance analysis
Another way that analytics technologies might help journalists is by analyzing player performance. They can better understand a player's strengths and limitations by looking at numbers such as shooting percentages or time on the court. They can also gain more specific insights, including ball handling speeds and court coverage.
This is crucial for player evaluation during trade or contract negotiations.
With sports analytics tools, journalists can more easily unearth obscure facts about the world of professional sports. As a result, they can present reports about current events in the sports industry that are better informed.
Why is data analytics in sports useful?
The global sports market increased to $496.52 billion in 2022 from $354.96 billion in 2021, making it one of the largest markets in the world. Sports teams are becoming increasingly devoted to investing in sports data analytics to gain a competitive advantage as spending on the global sports market rises.
As a result, the sports analytics industry is predicted to exceed $4.5 billion by 2025. Here are some of the significant advantages of sports data analytics:
Increased income
Businesses that engage in data and analytics can reap significant financial benefits. Ticket sales are one area where sports clubs use data analytics to boost income.
Effectively determining ticket prices is a crucial but challenging aspect of sales. Sporting firms can establish the most excellent value price for their clients and the organization by using data analysis to gain insight into critical financial metrics.
Better decision-making
You can make critical strategic decisions with the help of sports data analytics. One example where this has proven to be beneficial is in the NBA. Many clubs, including the Philadelphia 76ers, use sophisticated data analytic methods like hypothesis testing and data visualization to analyze NBA games and impact the coaching plan.
This kind of analysis has significantly impacted basketball. Teams have realized that taking more three-point shots is worth the compromises. Therefore, more action is taking place at the three-throw line.
You can benefit significantly from possessing the appropriate sports analytics tools. Using these tools, you can gain a deeper grasp of the game you are covering and present your viewers with more accurate, insightful, and engaging reports.
As technology and data-driven analysis continue to advance, these tools will undoubtedly be crucial in determining the direction of sports journalism in the future. They will help to captivate your audience with their capacity to reveal the untold tales behind each moment, athlete, and game of victory or defeat. So celebrate the era of sports analytics tools and use them passionately and skillfully.