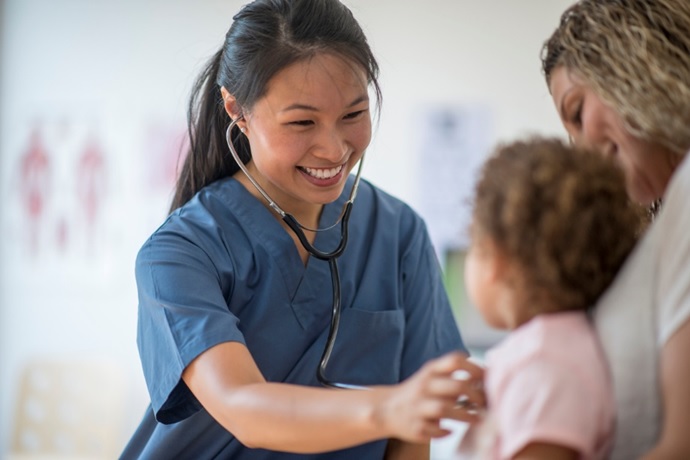 To meet the rising need for easily accessible and all-encompassing healthcare services, the family nurse practitioner (FNP) is crucial to today's healthcare system. FNPs are registered nurses with advanced practice who have specific training to diagnose and treat a range of medical disorders, work with medical teams, and promote preventive care. It is impossible to overstate the importance of FNPs in providing primary care, especially in disadvantaged areas. The goal of this article is to examine the primary duties of a family nurse practitioner while highlighting their numerous and significant contributions to the field of medicine. This article also briefly touches on a chance for future FNPs to enhance their careers through an online post-master's FNP program.
Background information about education and practice
It takes substantial education and training to become an FNP. Along with specialist FNP certification, FNPs often possess a Master of Science in Nursing (MSN) or Doctor of Nursing Practice (DNP) degree. They are able to work independently and in collaboration with other healthcare professionals thanks to their advanced credentials. In general, FNPs are qualified to perform physical examinations, order and interpret diagnostic tests, diagnose illnesses, create treatment plans, and prescribe drugs. However, the range of their practice differs by state and nation. They can offer a wide variety of healthcare services to people of all ages and backgrounds because of their varied skill sets.
Conducting thorough patient assessments is one of an FNP's main duties. FNPs use a holistic approach, considering patients' emotional, mental, and social health, in addition to their physical health. To arrive at precise diagnoses, they carefully go through medical histories, conduct physical exams, and review test results. The ability to discover underlying health conditions and create specialized treatment regimens catered to each patient's particular requirements is made possible by this all-encompassing approach.
Management of treatment and care
Care management and coordination are top priorities for FNPs. They create evidence-based treatment regimens to deal with both acute and chronic health concerns by drawing on their specific knowledge. These strategies can involve writing prescriptions for drugs, attending to wounds, giving injections, and supplying dietary advice. FNPs place a high priority on preventive treatment and health promotion, giving patients the tools they need to take control of their health and lower their chances of developing future problems.
The role of an FNP requires collaboration and effective communication. In order to provide cogent and comprehensive patient care, FNPs collaborate with doctors, nurses, specialists, and other healthcare providers. A team-based approach fosters open and transparent communication, which improves patient outcomes. FNPs also effectively interact with patients and their families, discussing diagnoses and treatment options as well as offering the support and information that is required throughout the healthcare process.
Patient education and health promotion
FNPs place a high priority on illness prevention and health promotion. They instruct patients on establishing healthy lifestyles, making wise decisions, and successfully managing chronic diseases. Patients are given the knowledge and skills necessary to take an active role in their healthcare by FNPs, which improves overall wellbeing and lowers healthcare costs.
There are numerous specializations and areas of focus that professionals can choose to explore within the field of FNP practice. Infants, kids, and teenagers receive specialized care from FNPs who choose to specialize in pediatrics. Others can concentrate on geriatrics, providing for the specific medical requirements of the elderly population. Additionally, FNPs with a focus on women's healthcare are available for patients in every period of life, from adolescence to menopause.
The role of ethics in FNP practice
In FNP practice, ethics are crucial. FNPs pledge to uphold moral standards in patient care, respect patient autonomy, and protect patients' privacy and confidentiality. They must handle difficult moral conundrums with expertise and compassion, always putting the needs of their patients first. FNPs also appreciate cultural diversity and are aware of how personal beliefs and traditions affect healthcare choices.
The job of an FNP is enjoyable, but there are problems as well. High patient loads, complicated problems, and challenging work settings are common challenges for FNPs. However, these difficulties offer chances for improvement and career advancement. FNPs can progress their careers by going back to school, looking for leadership positions, or doing research to help develop medical practice.
Developing a career with a post-master's online FNP program
Many registered nurses are looking to expand their education and career possibilities due to the constantly changing healthcare environment and the demand for highly skilled healthcare personnel. Family nurse practitioners who already have a master's degree in nursing may find an appealing choice in an online post-master's FNP program. Registered nurses can develop in their professions and broaden their areas of expertise through this specialized program.
According to the Bureau of Labor Statistics, nurse practitioners' employment is expected to increase substantially more quickly than the average for all occupations. This pattern suggests a bright future for nurses who specialize as FNPs, highlighting the significance of thinking about an online post-master's FNP program for career progression.
Flexibility is one of the main benefits of an online post-master's FNP program. Nursing students can coordinate their studies with their work and personal commitments thanks to the online approach. The opportunity to finish coursework remotely and at their own pace becomes a major benefit in seeking further education because many nurses balance employment and family commitments.
Additionally, online post-master's FNP programs can provide a variety of clinical opportunities and preceptorships. These practical experiences give nurses exposure to a variety of patient groups and practical skills, preparing them for success in their FNP responsibilities after graduation. Advancing one's profession through online education provides an opportunity to become an essential contributor to the healthcare system. FNPs are essential in addressing the healthcare requirements of different communities as the need for primary care physicians rises. Carson-Newman University's online post-master's FNP program for registered nurses is a great choice for nurses who want to improve patient care while developing their careers, due to its flexibility, variety of clinical experiences, and promising career prospects.
Conclusion
In conclusion, family nurse practitioners are essential members of the healthcare team because they give people of all ages thorough, patient-centered care. FNPs are at the forefront of providing healthcare, from patient assessment and diagnosis through treatment and care management. Their dedication to patient education and health promotion encourages people to live healthier lives, and their teamwork and communication skills assure the continuity and effectiveness of care. FNPs make a substantial contribution to both the improvement of the healthcare profession and the wellbeing of their patients by continuing to embrace their responsibilities with commitment and compassion.